Home
Talk

10
409pages on
this wiki
Welcome to the Wiki!
Reminders and Warnings
Please don't vandalize our pages or upload any unnecessary images.
Any kind of fanart on our pages is not allowed.
Any edit wars should be avoided by communicating.

Main Characters
Latest Manga Chapter
I am
Summary:For a brief moment in time, Oz, Gil and Vincent are drawn away from their fighting as Noise enters the room, completely under Duldee's control; stating that if she can't have Vincent, then she'll destroy everything, including Vincent.
Within Noise's subconscious, Duldee is ecstatic and laughs maliciously at her triumph over Noise. Seeing that Echo is horrified, Duldee attempts to justify her actions to Echo by explaining that Noise no longer has the will to act as her Contractor anymore. This meant that Noise couldn't control Duldee, who believed that Noise was merely keeping her bound before, anymore. Now, Duldee could simply tangle Noise in her strings and influence her mind by whispering to Noise, and Noise would do as directed helplessly and without question; making her more like a marionette than a human as she is now. Echo doesn't approve however, and insists that she won't allow Duldee to purposefully influence Noise's heart any longer. Angered by Echo's disobedience, Duldee demands that Echo explain herself, wondering what happened to Echo because by saying things like that she sounds almost like a human. Laughing, Duldee commends Echo because she's the oldest incarnation of Duldum, but rationalizes that Echo must've been broken somewhere along the line just like those before her. Submerging Echo in the waters of Noise's subconscious, casts Echo into a "disposal zone", admitting that Echo had worked so very hard during their time together and promising to become great friends with Echo's replacement.
| | |
| --- | --- |
| Featured Human | Featured Chain |
| | |
| Noise | Duldee |
| Noise was considered an aberration among the Baskerville Clan, as she lacked the ability to properly control her Chain. Through Duldee's intervention, Noise was able to prolong her own destruction with the help of The Echoes, though her heart would continue to break at a slower rate over the course of more than 100 years. | Duldee was the Chain Contracted to Noise for more than 100 years, having the unique ability to take over control of an individual's body and soul (on occasion) with the help of Duldum. Duldum sought to take complete control of Noise's body by completely shattering Noise's heart, though in the end she was thwarted by Echo. |
Contribute to this Wiki!
To write a new article, just enter the article title in the box below.
Wiki News
We have reached a new article count milestone, there are now over 400 articles!! (October 18)
We enabled the comments feature under all of our articles! Feel free to comment on anything! (October 10)
We deleted our old Facebook page and created a new one. Visit our Facebbok page which is run by CrimsonGaze14, our new Admin. (October 6)
We have a new Admin on the wiki! Welcome CrimsonGaze14!! We look forward to working with you!
Unfortunately due to his inactivity, BeeboiXD is no longer an Admin.
There are new projects you can join to help PH wiki develop! Have a look at them here.

Affiliated Wikis
If you would like to become an affiliate of the Pandora Hearts Wiki, Contact Us.

Vote for the Next Featured Articles!
Image of the Month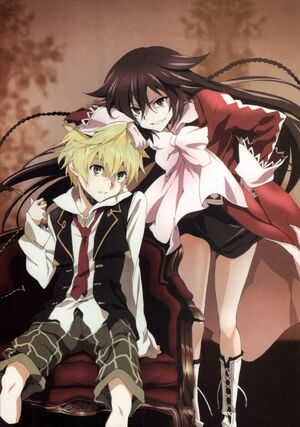 Twitter
Facebook
PH News!
PH Volume 20 is released! With Oscar Vessalius on the cover!
PH 3rd Light Novel is released! With Oswald and Jack on the cover!
PH Calendar 2014 will be released by the end of 2013!
Poll
Do you want a 2nd Season of PH?
Roman Numbers
Don't know how to read Roman Numbers? Read
this
and learn how to read the numbers!
Have a Question?
PH Websites
Recent Blog Posts