Home
Talk

10
398pages on
this wiki
Welcome to the Wiki!
Reminders and Warnings
Please don't vandalize our pages or upload any unnecessary images.
Any kind of fanart on our pages is not allowed.
Any edit wars should be avoided by communicating.

Main Characters
Latest Manga Chapter
A Story
Summary: Prior to leaving for Sablier, Break extended an apology to Oz and Gilbert, as he'd always known about Noise and Echo's connection, but never said anything. Sheryl attempted to object to Break "coming clean", but Break simply continued to say that even though he didn't know what exactly Echo and Noise are - had he said something sooner maybe Oscar wouldn't have died. Hearing this enraged Gil, who grabbed Break by his shirt and demanded to know why he would stay quiet about Echo and Noise for so long.
Sheryl had Reim bring her over to Gil so that she could explain that she ordered Break to keep the information to himself. As well, Sheryl revealed that she knew Vincent was working apart from Pandora, though she wanted to leave the matter untouched so she could sudy his actions. Sheryl elaborated that she knew if she'd told them about Echo it would've been difficult for them to act naturally with her, which would have ruined her attempt to use their relationship. Thus, Sheryl stated that if anyone should be blamed for Oscar's death, it was herself for making Break stay mum about the existence of Zwei.
| | |
| --- | --- |
| Featured Human | Featured Chain |
| | |
| Miranda Barma | Raven |
| Miranda Barma was an heir of the Barma Dukedom 100 years ago. She worked with Jack Vessalius in order to conspire against the Baskerville Clan, which lead to the Tragedy of Sablier. | Raven is the Nightray Family's Chain, which was later then tamed by Gilbert Nightray. Most recently, Raven followed Gil's final order, severing his left arm in order to break his vows to Oswald, nullifying their Legal Contract in favor of an Illegal Contract. |
Contribute to this Wiki!
To write a new article, just enter the article title in the box below.
Wiki News
We have reached a new article count milestone, there are now over 400 articles!! (October 18)
We enabled the comments feature under all of our articles! Feel free to comment on anything! (October 10)
We deleted our old Facebook page and created a new one. Visit our Facebbok page which is run by CrimsonGaze14, our new Admin. (October 6)
We have a new Admin on the wiki! Welcome CrimsonGaze14!! We look forward to working with you!
Unfortunately due to his inactivity, BeeboiXD is no longer an Admin.
There are new projects you can join to help PH wiki develop! Have a look at them here.

Affiliated Wikis
If you would like to become an affiliate of the Pandora Hearts Wiki, Contact Us.

Vote for the Next Featured Articles!
Image of the Month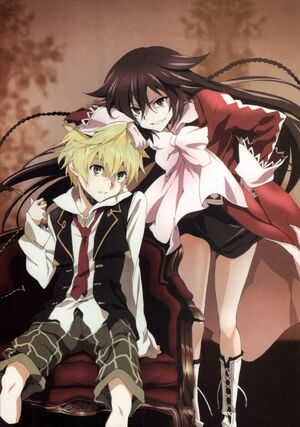 Twitter
Facebook
PH News!
PH Volume 20 is released! With Oscar Vessalius on the cover!
PH 3rd Light Novel is released! With Oswald and Jack on the cover!
PH Calendar 2014 will be released by the end of 2013!
Poll
Do you want a 2nd Season of PH?
Roman Numbers
Don't know how to read Roman Numbers? Read
this
and learn how to read the numbers!
Have a Question?
PH Websites
Recent Blog Posts