Welcome to the Wiki!
Reminders and Warnings
Please don't vandalize our pages or upload any unnecessary images.
Any kind of fanart on our pages is not allowed.
Any edit wars should be avoided by communicating.

Main Characters - Pandora Hearts
Main Characters - Crimson Shell
Main Characters - The Case Study of Vanitas
Latest The Case Study of Vanitas Chapter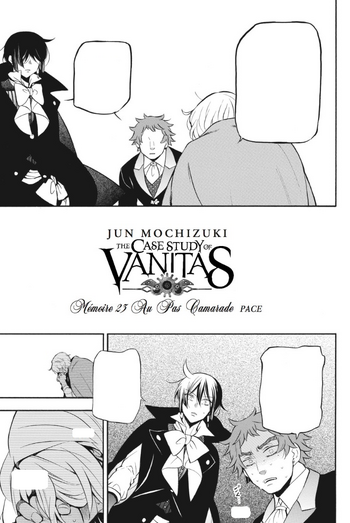 Memoire 23: Au Pas Camarade
At Hotel Chouchou, Dante reveals rumors about the Beast of Gévaudan to Noé and Vanitas: The beast was said to have form of a giant, red-furred wolf with a single line of black on its back; however, at the time of the beast's existence, the both the church and vampires believed that the beast was not a wolf but a curse-bearing vampire. Upon further inquiry, Dante discloses that it is uncertain whether the current beast is the same Beast of Gévaudan from the 18th century, but five corpses had been found already, each killed in a different manner and just as gruesomely as in the past. Hearing that these murders could lead to a curse-bearer, Vanitas is eager to depart.
Meanwhile, the blood from Vanitas' earlier injury distracts Noé, whose body is unusually lethargic, causing him to have difficulty resisting the temptation of drinking Vanitas' blood. While trying to contain his desire, Noé recalls his teacher's lesson that vampires born from Babel do not need to drink blood to survive.
Latest Pandora Hearts Chapter
Retrace CIV: Will
"Someone once said that that place was consumed in darkness, but that doesn't mean… that there was never any light."
As the trees sway in the wind a sleeping Oz is awakened by the sounds of his friends calling his name. As he looks up he sees Alice and Gilbert rushing to his side, with Alice scolding him for wandering off without telling her first and Gilbert noting that no matter how warm it may be, Oz will catch a cold if he falls asleep outside. Apologizing, Oz admits that he must have been so comfortable that he dozed off - prompting Gilbert to wonder if they should just call it a day if Oz is so worn out, though Oz assures him that he's fine to carry on. For a moment, Oz becomes transfixed on the world around him, mentioning how happy he is that it's a bright sunny day.
Just then, Alice notices something and points out that there's a cat (Cheshire) sitting in the tree above them, confusing Oz and frightening Gilbert. Thinking it over, Oz suggests that one of the guests at the tea party must have brought it with them, while also noting that Cheshire is making a somewhat arrogant face at them. Alice states that Cheshire looks tasty, but when Gilbert advises her not to eat Cheshire, Cheshire jumps down from the tree and scurries away. Although Oz is surprised and unnerved by Cheshire's disappearance, he's interrupted when Elliot and Leo come along.
Latest Crimson-Shell Chapter
Sprout VI: Epilogue of Prologue
After having shot Claudia, Shion walks around the room and unloads his Death Scythe Gun; asking Claudia if she was aware that there are two kinds of Death Scythe bullets. Continuing, Shion reveals that the one he'd just shot her with allows him to control a Rose's movements. Pulling out a new bullet, Shion explains that this bullet is capable of melting away Claudia's entire body, being the only thing that can guide her to her death; asking if it wasn't a fitting fate for her before calling her a filthy Crimson Rose.
This makes Claudia remember Xeno, and while struggling to use her strength she turns to see Xeno collapsed against a nearby wall. Claudia outright refuses to give up on life and leave Xeno, encouraging herself to move quick as she pushes herself to her feet; much to Shion's chagrin. Claudia accuses Shion of being the one to make Xeno say the awful things he'd said to her. Amused, Shion attacks Claudia with his thorned thorns - but as she braces herself for the attack, Claudia's own thorns defend her from Shion. Jumping to a nearby window, Claudia worries that she'll be unable to control her thorns for much longer, but is shocked to see that she could still move; instead calling Shion's bluff by writing off his Death Scythe as useless for being unable to take down the likes of her, a mere failure.
Affiliated Wikis
If you would like to become an affiliate of the Pandora Hearts Wiki, Contact Us.

Vote for the Next Featured Articles!
Image of the Month
Twitter
Facebook
News!
New milestone reached: 500 Articles and counting! (August 23rd, 2016)
The Case Study of Vanitas's ninth chapter: Memoire 9: Reminiscence has been released!
Pandora Hearts is officially concluded as of March 18th, 2015!
Crimson-Shell is officially concluded as of 2005!
The Merger Project is presently underway, meaning that the Pandora Hearts wiki will now include content from all of Jun Mochizuki's series, including Crimson-Shell, Pandora Hearts and The Case Study of Vanitas!
Poll
Do you want a 2nd Season of PH?
Contribute to this Wiki!
To write a new article, just enter the article title in the box below.
Roman Numbers
Don't know how to read Roman Numbers? Read
this
and learn how to read the numbers!
Have a Question?
PH Websites
Recent Blog Posts