Home
Talk

10
409pages on
this wiki
Welcome to the Wiki!
Reminders and Warnings
Please don't vandalize our pages or upload any unnecessary images.
Any kind of fanart on our pages is not allowed.
Any edit wars should be avoided by communicating.

Main Characters
Latest Manga Chapter
Disagree
Summary:Ada sits in front of the past incarnation of Vincent, listening to him as he cries. Vincent assures himself that he's not bad because he'd only wanted to save Gil; noting that he'd followed everything that the woman (Miranda) said, though none of this disaster was meant to happen. This prompts Ada to remember when Noise told her that Vincent is a Baskerville like her, as is Gil, in addition to Vincent's peculiar behavior during Isla Yura's Feast. Realizing what it all means, Ada sits back and starts to cry, confusing Vincent as he asks if something's wrong or if she's hut somewhere. Ada shakes it off and leans in to Vincent, formally introducing herself and explaining that, as she is, she can't so much as give Vincent a hug because she's like a ghost to him. However, she mentions that in the future, she receives many things from Vincent and they will most definitely be meeting one another again someday. Ada then runs through Sablier as the city burns down around her, bent on helping her friends.
Elsewhere, Oz summons his many bladed chains to cut Oswald down, though Oswald is quick to avoid them. The two cross blades, surprising Oz; who'd anticipated keeping Oswald at bay for a while longer. Oswald manages to catch Oz off-guard and push him back, though Oz isn't ready for surrender and once again engages Oz in battle. Vincent lays unconscious on the floor nearby, with Gil over top of him begging Vincent to wake up. Suddenly, Alice jumps down from the balcony above, telling Gil to catch her. As he'd not expected Alice to jump, Gil leaves Alice to land on her own, where she immediately looks up to see Oswald, forcing her to remember her uncle and their interactions from more than 100 years before.
| | |
| --- | --- |
| Featured Human | Featured Chain |
| | |
| Miranda Barma | Raven |
| Miranda Barma was an heir of the Barma Dukedom 100 years ago. She worked with Jack Vessalius in order to conspire against the Baskerville Clan, which lead to the Tragedy of Sablier. | Raven is the Nightray Family's Chain, which was later then tamed by Gilbert Nightray. Most recently, Raven followed Gil's final order, severing his left arm in order to break his vows to Oswald, nullifying their Legal Contract in favor of an Illegal Contract. |
Contribute to this Wiki!
To write a new article, just enter the article title in the box below.
Wiki News
We have reached a new article count milestone, there are now over 400 articles!! (October 18)
We enabled the comments feature under all of our articles! Feel free to comment on anything! (October 10)
We deleted our old Facebook page and created a new one. Visit our Facebbok page which is run by CrimsonGaze14, our new Admin. (October 6)
We have a new Admin on the wiki! Welcome CrimsonGaze14!! We look forward to working with you!
Unfortunately due to his inactivity, BeeboiXD is no longer an Admin.
There are new projects you can join to help PH wiki develop! Have a look at them here.

Affiliated Wikis
If you would like to become an affiliate of the Pandora Hearts Wiki, Contact Us.

Vote for the Next Featured Articles!
Image of the Month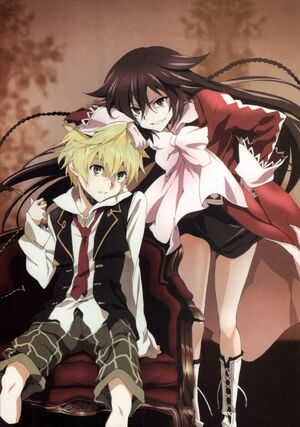 Twitter
Facebook
PH News!
PH Volume 20 is released! With Oscar Vessalius on the cover!
PH 3rd Light Novel is released! With Oswald and Jack on the cover!
PH Calendar 2014 will be released by the end of 2013!
Poll
Do you want a 2nd Season of PH?
Roman Numbers
Don't know how to read Roman Numbers? Read
this
and learn how to read the numbers!
Have a Question?
PH Websites
Recent Blog Posts