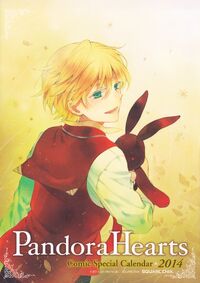 The fifth calendar of Pandora Hearts, released for 2014, that has 13 pages, including the front cover.
Featured characters
Edit
Cover for each month
Edit
All artwork in this calendar is original.
It appears that in February either the Sinclar or Flower Girl make a reappearance.
September is the only month to include Chains alongside the characters.
In September there is another bird Chain however it doesn't appear to be Owl or any of the other Winged Chains.