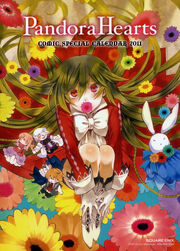 The calendar of Pandora Hearts, released for the year 2011. Like all calendars, it has 13 pages, including the front page.
Featured Characters
Edit
Cover for each month
Edit
Most of the images from the calendar are from the manga.
There's been speculation about the girl in the middle of the September illustration being Lacie. There's been no confirmation given for this, though.