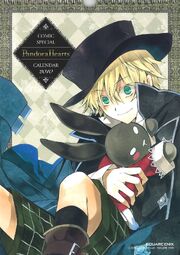 The 2010 calendar for Pandora Hearts was the very first calendar to be released for the series. It was released on the 16th of November 2009 and contains 13 pages including the front page.
Featured Characters
Edit
(*) - Denotes a small appearance in the cover for January
Cover for each month
Edit
Sharon, Cheshire and Lottie make very small appearances in the cover for January, as black outlines in the cards at the top right corner.
Ad blocker interference detected!
Wikia is a free-to-use site that makes money from advertising. We have a modified experience for viewers using ad blockers

Wikia is not accessible if you've made further modifications. Remove the custom ad blocker rule(s) and the page will load as expected.