Echo was created by Duldee four years prior to Oz Vessalius' Coming of Age Ceremony after the failure of her predecessors. Echo was tasked simply with acting as a tool for Duldee, as well as protecting Duldee's Contractor, Noise's, heart, which was cracking because Noise lacked the proper qualities to control the powers of the Abyss. Originally, Echo was simply an empty doll that wasn't able to think for herself, however with every crack in Noise's heart, Echo gathered the pieces that Noise couldn't re obtain and took them into herself to join the pieces gathered by the Echoes before her. This made it so that Echo began to reflect Noise's original persona and gain a weak sense of individuality alongside it, while Noise filled her broken heart with imitations of Duldee and Vincent's personalities.
Working With Pandora Arc
Edit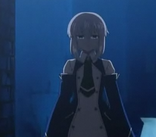 Shortly after Gilbert,
Alice
and Oz's encounter with the
Intention of the Abyss
, Vincent sends Echo to Gilbert's apartment in Reveil to deliver a bouquet of roses and a letter to Vincent's elder brother. Echo enters the apartment unnoticed, stopping in the doorway when she finds Oz on the floor and in pain due to the first progression of his
Illegal Contractor's Incuse
. Echo then leaves the bouquet and letter where she stands, making a swift exit as Gilbert and Alice come to Oz's aid. Afterwards, Vincent sends Echo out after the Illegal Contractor of
Grim
. Whilst searching the streets of Reveil, Echo comes across Oz speaking with a young child whom she believes is the Illegal Contractor that she's searching for,
Phillipe West
. As such, Echo approaches the two, calling Phillipe a dimwit Contractor because of his inability to hide his
Chain
and asking if the boy before her is indeed Phillipe West. Oz immediately recognizes Echo and greets her happily, prompting Echo to explain that she's a servant of the Nightray Dukedom and that she had been ordered by Vincent to apprehend Phillipe. Ech
o requests that Oz surrender Phillipe without argument, drawing one of her blue-bladed short-swords and directing it as Oz, stating that she'll have to view Oz as a hindrance to her duties if he didn't; leading Echo to threaten Oz's life. Oz laughs over the circumstances of their second meeting, thinking it to be fate. This confuses Echo, prompting her to ask who Oz is. Upon further examination, Echo remembers Oz as being the person who had been sleeping on the floor when she delivered a letter to Gilbert earlier that day. Echo tells Oz that sleeping on the floor obstructs traffic, mentioning that she'd almost stepped on Oz and that he'd be better off sleeping somewhere else next time. Oz tries to tell Echo that he wasn't sleeping on the floor, but Echo reiterates that she'd come to apprehend Phillipe before he can finish. Phillipe stares at Echo's short-sword, stunned, before running away in fear. Echo calls Phillipe rude, wondering why he's running when she hadn't finished speaking yet, leading Oz to state that anyone would run if they saw Echo's short-sword. Echo accepts this, and immediately begins pursuing Phillipe, with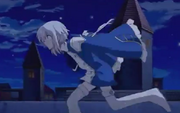 Oz following close behind her. During the pursuit, Echo asks what Oz wants, telling him not to follow her. Oz states that he can't just let the encounter go, leading him to grab Echo's arm so she'd stop and explain what Phillipe did wrong. When stopped, Echo turns and reminds Oz that she will kill him if he interferes, threatening him with her short-sword. Suddenly, Echo notices Gilbert's hat fall from Oz's grasp, wondering if Oz is a friend of Gilbert's. Oz explains to Echo that Gilbert is his valet, making Echo regret her threats toward him, bowing and begging her forgiveness. Echo withdraws her short-sword, knowing that if she hurt Gilbert's master then Vincent would scold her severely, telling Oz that her mission doesn't involve him before she continues her pursuit of Phillipe.
Oz once again follows Echo, insisting that it was his business because of how he cares for Phillipe after the two had connected. Hearing this makes Echo sympathetic, and so she stops to explain her mission to Oz, enforcing the fact that Oz can follow if he wants to, but if he dies in the process it's not her concern. Oz is shocked to hear that Phillipe is an Illegal Contractor from Echo, chasing after her and asking if she'd kill Phillipe even though he's so young. Echo ignores Oz, leaping over a ledge and tackling Phillipe to the ground. After closer examination, Echo tells Oz that he's misunderstood something, as Phillipe isn't the Illegal Contractor, it's his father, William West. Echo attempts to begin her pursuit once more, but is held back briefly by Oz as Oz promises to bring Phillipe's father back to him; sending Phillipe home while he and Echo race to find William.
Echo follows a nearby explosion that resulted from Grim and William West, leading her directly to her true target with Oz in tow. Echo jumps off of a bridge when reaching the area where Grim and William are, diving for Gri
m and slashing through him. Gilbert and Echo are surprised to see one-another, however this doesn't distract Echo from her goal. Grim defends himself, slamming a hand down with the intent of crushing Echo, but Echo dodges the attack with ease. When Grim attacks again, Echo is distracted because Gil insists that Echo can't fight Grim alone, Grim throwing Echo into a nearby alley. Echo gets up to rejoin the fight, but Vincent comes up from behind and wraps his arms around her, telling her to lie still and suggesting that they watch the fight for a while longer. Gil, Alice and Oz continue fighting Grim, Oz noticing that the damage done to Grim also impacts William because of how far his Incuse had progressed. Oz manages to seal Alice's powers, approaching William to remind him of what's really at stake (Phillipe). Gilbert stands (having been knocked unconscious by Grim during their battle) and thinks Oz is in danger being so close to William, aiming his gun at William. Oz defends the now reformed William, Vincent suddenly deciding that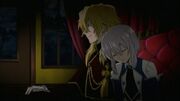 this is the perfect moment for his intervention, shooting William in the head. Echo emerges alongside Vincent, as Vincent explains that he 'believed' William was going to kill Oz; justifying that William was either going to fall into the
Abyss
or be killed anyway. Echo joins Vincent, Gilbert, Oz and Alice as they travel to the
Rainsworth estate
. Echo sits in Vincent's lap while Vincent dries her off (as it had been raining) and explains what happened to Sharon. Immediately after, Vincent decides that it's time for himself and Echo to be going, the two returning to the Nightray estate for the night.
Cheshire's Dimension Arc
Edit
After Vincent learns from an unknown informant that Break is trapped in another dimension with Cheshire, Vincent sends Echo to kidnap Sharon. Echo does as directed, travelling to the Rainsworth estate and finding Sharon alone shortly after sending Oz and Gilbert into Cheshire's Dimension and fighting with Cheshire through her Chain, Equus. Echo apologizes to Sharon for what she has to do, hitting Sharon over the head from behind and bringing her unconscious body to the Nightray estate. At this moment, Vincent had Echo and Noise switch places with one another to use Duldum's power to control Sharon into using Equus to bring Oz and Alice back to Pandora during a meeting between The Four Great Dukes. Meanwhile, as Cheshire's dimension is crumbling, Gilbert would have to use Raven to save himself and Break from the crumbling dimension - leading to the removal of the seal on Alice's power and making her revert to her released form when she appeared in Pandora, thus causing turmoil.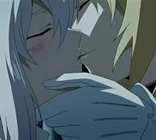 After Vincent had Noise use Equus to bring him to Pandora to leave a clue behind for Break, Noise and Echo switch back once again. At some point before this however, Vincent had administered poison to both Echo/Noise and Sharon. Vincent soon leads Break to the Nightray estate, intending to trade Cheshire's Bell for Sharon. Vincent explains that he's given Sharon and Echo a poison to set a time-limit on their negotiation. Break questions why Vincent would poison Echo as well, with Vincent revealing the antidote to the poison and administering it to Echo in order to prove to Break that it truly wo
rks. Vincent then holds the antidote over the balcony, threatening to destroy it if Break doesn't have
Mad Hatter
destroy Cheshire's Bell. Break reluctantly complies, but Vincent drops the antidote over the balcony anyway. Although, Echo frantically dives for the antidote when all seems lost. Vincent attempts to slap Echo for her defiance, but Break saves her instead, taking the antidote and leaving with Sharon afterwards.
Sablier Arc
Edit
On St. Bridget's Day, Vincent's expecting a visit from his brother, and as such, Echo is given the day off so that she doesn't get in the way. With nothing more to do, Echo travels into Reveil to attend the St. Bridget's Day Festival being held throughout the city, sitting on the roof of a nearby building an watching the festival from afar. However, Echo's peaceful observation is interrupted, as Oz makes his way to the roof Echo's on after seeing her from the street below. Echo vaguely remembers Oz, and takes the time to explain her reasoning for attending the festival. Soon, Oz mentions how amazing he thinks that the St. Bridget's Day festival is because of its ability to bring people so close together, leading Echo to ask if Oz had ever attended the St. Bridget's Day festival before. Oz denies having done so, as he was never allowed to wander into Reveil on his own when he was younger, stating that now that he's seen it, he knows the festival is more beautiful than he could have ever imagined.
Echo takes note of this, writing the time down in her diary and a brief summary of Oz's appearance. Echo shares her diary with Oz when he shows interest in it; Oz stating that it has character to it and thinking of how Echo's diary is more like an observation record. In turn, Echo reveals to Oz that she has never attended a festival before either, justifying that because it was her first experience of the event, she must record everything she sees. As such, Oz takes Echo by the hand and tells her that she has to join in the festival herself and experience it all first-hand. Echo asks Oz to let her go, explaining that she's fine with just watching from afar and that someone like her shouldn't be involved in the festival anyway. Oz tells Echo that she's wrong - telling Echo that because it's St. Bridget's Day, Echo can hide her identity underneath an elaborate costume and be someone other than herself.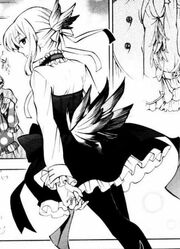 Despite being very reluctant, Echo decides to go with Oz, getting a blue-feathered costume (as part of the legend of Bridget, the blue-feathered angel) and experiencing the culture of the festival first-hand. After a few hours of enjoying the festival, Oz asks if Echo's having fun. Echo claims that she is, but Oz doesn't know if Echo meant it; Echo having to explain that she's really enjoying the St. Bridget's Day Festival because of how interesting she finds it all. Alternatively, Echo tells Oz that she doesn't really understand the meaning of fun, so that could be why she doesn't seem to be enjoying the festival as Oz had expected her to. Changing the subject, Oz asks if Echo has been with the Nightray Dukedom her entire life, which Echo confirms. Oz comes to the conclusion that Echo is with Vincent all the time because she likes him, although Echo doesn't respond to this, simply looking drained instead. Realizing how she must look to Oz, Echo quickly covers up her dissatisfaction, frantically going on about how fond of Vincent she is. Oz notices Echo's change of attitude and tells her that she can tell him whatever she wants to because he's not going to tell on her. Even so, Echo's not herself at the moment because of the St. Bridget's Day festival, Oz asking Echo not to think of him as 'Oz Vessalius' either. Accepting this, Echo starts calling Oz 'Jyanta-san' explaining that she finds Vincent unbearably annoying, continuing to list the aspects of Vincent's personality that she doesn't like.
Echo's dislike for Vincent makes Oz wonder why Echo is still loyal to the Nightray Dukedom. Echo responds by explaining to Oz that she's no more than a reverberation, and thereby has no right to refuse anything, no matter how poorly she's treated. Oz finds this outrageous, but doesn't get to voice his opinion before the fireworks start behind him. Seeing the fireworks, Echo grabs Oz by the wrist and states that she wants to see the fireworks up-close. When Echo and Oz get to a spot where they can enjoy the fireworks, Echo mentions how beautiful she thinks the fireworks are. Echo continues, going on about how amazing she finds the mechanics of generating fireworks is, keeping to herself how light her body feels - leading Echo to believe that this is what it must mean to be having fun.
Oz says that because they're seeing the fireworks, the St. Bridget's Day festival must be almost over, Echo agreeing and claiming that she feels a little lonely. In response, Oz pulls out something he claims to be a gift, adding a blue-feather clip to Echo's hair. Oz explains that the woman at the store told him he needed to give a girl at the St. Bridget's Day festival blue feathers before the festival ends, wondering if it's something new that they came up with in the last ten years. Echo is visually flustered and asks if Oz knows what giving someone blue feathers on St. Bridget's Day means, which Oz denies. Echo then begins walking away, Oz following close behind her and asking if something's wrong. Echo claims that nothing's wrong, asking Oz not to follow her because she finds it annoying. Oz catches up to Echo and manages to thank her for saving Sharon the night that Vincent had poisoned her; explaining that he'd wanted to bring it up all day, but didn't know how. Echo tells Oz that it was because of him, reminding Oz of when he said that Phillipe's business was his business too because he cared about him. She'd thought about it and wanted it to be true, which is why she saved the antidote for Sharon. Echo turns and tells Oz that she's going home because she could be scolded by Vincent if she's late. Oz apologizes for dragging Echo all over the place throughout the day, Echo stopping and telling Oz that it wasn't troublesome, as she found the day to be meaningful, taking the time to thank Oz for the blue feathers. Suddenly, Oz feels the hand of his Incuse move forward once more, falling unconscious as it happens. Echo catches Oz in her arm, but absorbs some of the residual Abyssal energy flowing out of the Incuse, and falls unconscious to the ground as well.
When Echo later regains her consciousness, Oz is gone and Echo is panting because of the strain the Abyssal energy has on her body. Within her subconscious, Echo is approached by Noise, who sees that Echo is in pain an extends a hand in order to help Echo. Echo stands within her subconscious and runs, Noise asking why she's running from her and that Echo takes Noise with her to the Nightray estate. Echo closes her eyes and continues running, soon tripping and falling to the ground. Noise stands before Echo in their subconscious, striking fear into Echo, but Echo sees a door open in front of her as well, Vincent emerging and welcoming her and Noise back to the Nightray estate (as Noise's pressuring forced Echo to run to the Nightray estate without her realizing it).
Vincent then slaps Echo when she's standing, Lottie walking in when he does it. Lottie angrily asks what Vincent thinks he's doing, Vincent explaining that he's vexed and so he's taking out his anger on Echo. Hearing this only makes Lottie more angry, and so Vincent changes his answer, telling Lottie that the slap was punishment for mingling with Oz at the St. Bridget's Day festival. Noise hear this and tells Echo that she's a bad girl and that she needs to be punished within their subconscious, Echo crying out in pain and trying to distance herself from Noise in the process. Lottie worries about Echo's actions, but Vincent assures Lottie that she doesn't need to worry, explaining that Echo's just suffering because of the residual power from B-Rabbit she encountered when Oz's Incuse progressed.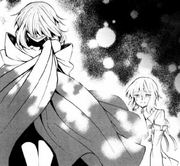 Lottie and Vincent continue to tease one-another during their conversation, causing Noise to burst into hysterical laughter. Lottie thought that there might have been something wrong with Echo, showing her concern. Lottie soon takes back her concern, as she realizes that Noise is trying to force herself out as the dominant personality. Within their subconscious, Noise tells Echo to hurry and get out of her way so that she can be with Vincent. Instead, Echo painfully grips the fabric in front of her, telling Noise that she can't allow Noise to become the dominant personality because of Vincent's orders. Echo's concern prompts Vincent to tell Echo that he doesn't need her anymore and to switch places with Noise. Echo breaks down in tears within her subconscious as Noise takes her place as the dominant personality; Echo simply fading into the subconscious, crying and calling out for Oz.
Echo continues to remain the submissive consciousness within her and Noise's body, that is until Noise's visit to Sablier for Vincent. Here Noise gets impaled and stabbed in the hand by Break, and as such Echo has to take Noise's place as the dominant personality while Noise becomes the submissive personality so that her wounds can heal.
Re-Emergence of the Head Hunter Arc
Edit
With the stress taking over control throughout Pandora because of breaking of the first two Sealing Stones, as well as the Head Hunter's re-emergence, Oscar Vessalius throws an outdoor tea party to help calm everyone's nerves. Echo attends the tea party because she's curious of what it's all about, hiding behind a nearby tree to observe. Echo is spotted, however, by Oz - who mentions how he hasn't seen Echo since the St. Bridget's Day festival, asking if something happened to her. Echo notices Break in the distance, her fear taking over because she knows what Break had done to Noise in Sablier. Echo recovers from the shock and tells Oz that she was just curious and that she should return to Vincent's side, however Oz insists that Echo stay and enjoy the tea party since she's already there; stating that all were welcome and that he wants to have some tea with Echo. Oz then grabs Echo by the wrist and drags her over to enjoy the tea party, visually flustering Echo. Not long after joining in on the tea party, Oscar brings out his camera and suggests a group photo to celebrate what he calls an 'unbirthday party'. As such, Echo joins in on the group photo alongside Oscar, Gil, Alice, Break, Sharon, Ada Vessalius, Elliot and Leo, returning to Vincent's side sometime afterwards
The Feast Arc
Edit
As the end of Oscar's unbirthday party came, the foreigner, Isla Yura arrived at Pandora to act as a witness. With the arrival of Isla Yura comes the announcement of a second Coming of Age Ceremony for Oz, meant to be held in Isla Yura's mansion in a neighboring country, an event Vincent was invited to. As such, Echo attends Oz's second Coming of Age Ceremony, however she keeps her distance from Vincent, watching from afar to ensure Vincent's safety.
After Orphan I and Orphan II make their way into the mansion's grand hall with members of Isla Yura's Cult by their sides, decapitating guests of the Ceremony and ensuring there's no escape, Echo follows close behind Vincent to watch for potential threats. At the moment, Vincent has been suffering from repressed memories of the Tragedy of Sablier with Ada close by, Vincent calling out for Echo when Ada is targeted by a member of Yura's Cult. Echo is suddenly on the scene, tackling the cult member to the ground and slashing through his chest with her twin short-swords. Vincent then takes the opportunity to knock Ada unconscious, asking Echo to take Ada away, Echo asks if by 'take Ada away' really means 'take Ada somewhere safe'. Vincent only glares at Echo, leading Echo to decide that taking Ada to Gilbert would be safe enough for Ada. After bringing Ada to Gilbert, Echo returns to Vincent's side, Vincent having recently finished torturing the cult member for information. Together, Echo and Vincent pass by a window, where Echo notices Break outside the mansion, fighting Fang and Lily.
Echo and Vincent carry on, arriving on one of the upper levels of the mansion to find Orphan I and Orphan II with their two Humpty Dumpties summoned and fighting Gilbert and Elliot. Echo comes up from behind Orphan I and Orphan II, hitting both on the back of their heads to knock them unconscious; Vincent then using his Chain, Dormouse, to plunge the two orphans into a deep sleep. Vincent mentions how Dormouse usually isn't useful, but at least isn't as pathetic as Reim Lunettes' March Hare. This reminds Gilbert and Elliot of Reim and Break, remembering how Break hasn't returned since he went to pursue someone he thought was the Head Hunter. Vincent tries to encourage the two that Break can handle himself, however, Echo mentions that she saw Break fighting Fang and Lily on the way there, assuming that Vincent didn't notice it. Echo helps lead Gilbert and Elliot through Yura's mansion to a secret passageway that had been revealed to Vincent while torturing the cult member. Upon arriving in the hidden chamber where Oz is being held by the cult, Echo acts as a large part of the battle, massacring numerous members of Isla Yura's Cult. After Oz is saved, Gilbert goes to help Break, leaving Echo to help Oz, Vincent and Elliot stop Isla Yura's attempt at re-enacting the Tragedy of Sablier and saving Alice and Leo from being sacrificed.
Echo waits with the group as they survey the room where Yura's 'Feast' (a term coined by Yura) is taking place from a balcony above. Vincent suggests that they just kill everyone that's part of the Feast because it'd be the quickest way to end The Feast without destroying the Sealing Stone or losing Alice and Leo in the process. Despite their attempt at planning for the safest way to end The Feast, as soon as Oz sees members of Yura's Cult bring out Alice and Leo, Oz slams down his hand and angrily screams at Yura while ordering Elliot to focus on saving Leo. Meanwhile, Echo and Vincent just sink down and out of sight, calling Oz and Elliot hopeless. While Oz and Elliot rush to save Alice and Leo, an orphan comes up to the balcony and summons her Humpty Dumpty. Vincent notes how unfair it is that Humpty Dumpty isn't affected by the power of the Sealing Stone even though everyone else's Chains are as Echo dodges an attack from the orphan's Humpty Dumpty. Echo continues to battle the orphan and her Humpty Dumpty, whilst Vincent watches as Oz summons B-Rabbit's power and destroys the majority of Yura's followers and the orphans' Humpty Dumpties. Echo wins the battle against the orphan and her Humpty Dumpty (although it's unknown if she had to kill the orphan or not), soon descending to The Feast's main level shortly after the death of Isla Yura and the destruction of the Sealing Stone by the Baskervilles.
With the orphans' Humpty Dumpties going insane due to the Abyssal power they'd been exposed to when the Seal broke, they quickly surround Gil, Oz and Alice. When one of the Humpty Dumpties attacks Gil, Echo dives down and cuts off its tongue, telling Gil that she'll assist him as she rushes into battle. Suddenly, the Humpty Dumpties start thrashing and losing control of themselves, rather than attacking, greatly confusing Echo and the remaining survivors of The Feast. Oz takes this opportunity to destroy the remaining Humpty Dumpties, although soon they die without being attacked by Oz, crumbling before him. Echo is visibly confused, but doesn't take the time to ponder what's happened, as Break and Sharon arrive on the scene to explain that the mansion is almost completely destroyed above them and that they need to use Equus to escape before the mansion buries them in rubble. Echo complies and travels to safety through Equus with Oz, Alice, Gilbert, Break, Sharon, Vincent, Leo and the surviving orphans, after the dead bodies of Elliot and Bernice Nightray are found in a neighboring room; returning to Pandora to report what she knew of the disaster.
Jack's Intention Arc
Edit
Shortly after their return to Pandora's country following the disaster that was Yura's Feast, Echo disappears mysteriously alongside her master and Duke Bernard Nightray. While missing from the public eye, Vincent and Echo return to the Nightray estate to find it overrun with Pandora members because of Bernard's connection to Isla Yura. Thus, Vincent has Echo switch places with Noise so that Noise can use Duldum to stop the Pandora members from interfering.
Soon enough, Vincent returns to the estate with Leo, having discovered that Leo is destined to inherit the title of Glen Baskerville from Bernard prior to killing him. Echo does not become the dominant personality again until after Leo has traveled to Sablier with Vincent to accept his place as Glen Baskerville and form an Illegal Contract with Jabberwock. Immediately after Vincent and Leo's return, Echo joins them as thy journey into Reveil during a festival to search for Oz. Once the three of them find Oz, Gilbert and Alice, Leo walks a head of the group and talks with Oz, Vincent speaking with Gilbert just behind them and leaving Echo to walk in awkward silence with Alice, only speaking to sharply deny wanting any of Alice's food.
Without warning, Leo summons Jabberwock and attempts to cast Oz into the Abyss as soon as Oz denies Leo's offer to join him and the Baskervilles in destroying the Intention of the Abyss. Gilbert summons Raven to battle Jabberwock, leading Alice to attempt to join in the battle, however, Echo confronts Alice instead and politely asks Alice to accompany her for the time being. Alice tells Echo that she has no time to deal with her (calling Echo 'Eggo' in the process - as she'd forgotten Echo's name), looking past Echo and telling Oz that he can't use anymore of B-Rabbit's power. When Oz objects, Alice orders him not to talk back to her, greatly annoying Echo. Echo goes off on a rant about how Alice is always calling Oz's name and asking if Alice is trying to be Gilbert. Alice insists that Echo not lump her together with Gilbert, reminding Echo that Oz is her 'man-servant'. Echo doesn't find Alice's answer to be good enough, reminding Alice that Oz had saved Gilbert's life before stating that Vincent has ordered her to preoccupy Echo as her opponent, drawing both of her short-swords and diving into battle with Alice.
Alice continues to fight with Echo, eventually taking the time to order Gilbert to stop fighting Vincent (who had taken over Leo and Jabberwock's fight) and Demios, the Executioner and go help Oz. Gilbert tells Alice that he can't and that she should stop fighting Echo and go in his place. As Alice dodges another attack from Echo, she insists that she can't go as she has to land at least one kick on Echo before she can be satisfied; Echo dodging an attack from Alice in the process. Then, Oz arrives, riding on Equus' back and telling Gilbert and Alice that it's time to leave; having learned from Sharon that Rufus Barma had betrayed Pandora and attacked Sheryl Rainsworth. As her fight with Alice has been cut short because of Alice's return to Pandora through Equus, Echo returns to Vincent's side, while Leo reunites with the two. Although, Echo's reprieve is short-lived, as Leo decides that he's not finished with Oz yet, once again summoning Jabberwock and having Jabberwock fly himself, Vincent and Echo to Pandora to confront Oz, Alice and Gilbert one last time.
Echo finds Alice once again upon arriving at Pandora, attacking Alice just as she warns Oz not to use B-Rabbit's powers. Alice barely manages to dodges Echo's attack, and the two initiate battle with each other yet again. Alice later feels Oz's Incuse progress as he fights Leo and Jabberwock, Alice looking to stop the flow of B-Rabbit's power; this moment, Echo is taken by surprise as she notices that she can see through Alice's body. Alice soon manages to land a hard kick on Echo, knocking her away, and leaving her free to interfere with Jack's plans, which she quickly proceeds to do. During Alice's confrontation with Jack, Echo manages to recover faster than Alice had anticipated, Echo racing over to where Alice and Jack are preparing to fight.
Echo arrives just in time, grabbing Echo from behind and saving her from being torn apart by B-Rabbit's bladed chains. Despite this, Alice angrily asks Echo what she thinks she's doing and insisting that Echo let her go. Echo tells Alice that if she had not saved her, Alice would have been turned into sand, just like the Humpty Dumpties at the second Coming of Age Ceremony, because of B-Rabbit's powers. Alice tells Echo that she hadn't asked for any help and that she's going to drop-kick Echo at this rate. Echo starts to explain, stating that she's aware that Alice hadn't asked for any help - though she's interrupted by Alice vowing to grind Echo into mince-meat. Echo finishes by explaining that she can't control the movements of her body, rather it moves of its own accord. Echo's attention is suddenly drawn as she asks herself what she's seeing. Oz is standing in a crater with B-Rabbit's scythe, still overcome by Jack's own soul, Echo asks herself if that truly was Oz. Jack mentions how Alice always manages to interfere, slamming the base of B-Rabbit's scythe handle into the ground and summoning the
Chains
that surround the world and prevent it from falling into the Abyss and being destroyed.
Echo can only stand and watch the horror unfold around her as Jack severs the Chains. Soon afterwards, Echo watches as Oz regains control of Jack's body and banishes Alice from it, causing Alice to disappear. Finally, the chaos calms minimally after the final act of tragedy plays out, where Gilbert shoots Oz by order of Oswald (who has now taken control of Leo) and Sharon and Break are apprehended by the Baskervilles.
Later, Echo goes to visit Oz in Pandora's dungeons, finding that he's being guarded by Lottie and another Baskerville. Lottie hears Echo approaching and orders her to identify herself, prior to seeing Echo and identifying her as Noise. Oz takes the chance to tell Lottie that it's not Noise, it's 'Echo-chan', leading Echo to angrily tell Oz to just call her 'Echo'. Lottie questions what kind of business Echo has in Pandora's dungeons, prompting Echo to swallow nervously as she pulls out her Jyanta doll. Echo flashes the Jyanta doll in Lottie's face, telling Lottie in a threatening way that the Jyanta doll is a limited edition version of the doll that was released on St. Bridget's Day in Reveil this year. Echo finishes by telling Lottie that she intends on giving Jyanta to her in exchange for some time alone with Oz. Lottie realizes that Echo is attempting to bribe her, a bribe which she accepts excitedly, playing up that she had wanted to get some fresh air anyway, before she proceeds to the exit of the holding cell block of Pandora with her Baskerville companion in tow.
Echo questions whether or not Oz is okay as soon as Lottie and the other Baskerville are gone. Oz is confused by this, but Echo blurts out that she knows Oz isn't fine - subsequently apologizing for her outburst in the process. Oz remains silent, Echo not knowing what to say and beginning to panic - confusing Oz even further. Echo thinks to herself, remembering something that causes her to pull out her diary, attempting to tell Oz a joke, but sliding to the ground in shame when she realizes that she forgot to write down the punchline. Oz starts laughing hysterically in response, causing Echo to question the reason for it. This confuses Oz, as Echo states that the fact that he understands that the punch line of the joke which she had replicated is an inversion of the concept in her opinion. Oz asks if in the comedic story, Echo was talking about Gilbert, explaining that he has a memory of being told something similar by Oscar a long time ago. Oz then states that Echo really is like Gilbert, based on how she had forgotten the punch line.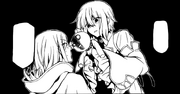 After Echo receives thanks from Oz, Echo explains that Gilbert had never really intended to shoot Oz, explaining how she'd heard that Gilbert used to be a valet of Oswald, meaning that his loyalty is permanently bound to Oswald. Oz interrupts Echo, adding that Gil hates Jack, meaning that if Gil was to, once again, attempt to shoot at an image of Jack - there'd be no helping it, Gil would shoot Oz again. Echo insists that Oz is wrong, and that he and Jack are two completely different people, something which Echo thinks that Oz should know. However, Oz objects, claiming that he and Jack are one-in-the-same, as
his
body is really
Jack's
body, only made younger by the powers of the Abyss. Meanwhile, Oz's own soul has only been using Jack's body of its own accord on a temporary basis. This leads Oz to remembering Jack telling him that the body belonging to Oz Vessalius was a lie, and so Oz insists that such a thing must be true.
Oz carries on, explaining to Echo how he finally remembers everything about his past and who he really is. Oz explains to Echo that coming into contact with Jack's memories made him aware of everything that Jack's done up until now, as well as the cycle of Abyssal power flowing into Jack's body that is both aging and making Jack younger whilst destroying his soul. Thus, Oz explains how the soul of 'Oz the B-Rabbit' was left over, prompting Jack to send Oz on a voyage in search of the lost fragments of Jack's soul, as well as explaining how he became 'Oz Vessalius' to Echo. Oz's tale makes Echo greatly sympathetic, and so she interrupts Oz, reaching through the bars of his cell and embracing him tightly. Oz returns the gesture, just as the final Sealing Stone is destroyed by the Baskervilles that Rufus had sent to Count Airy estate. Soon after, Lottie returns with two Baskervilles by her side, telling Oz that he's coming with them. Echo is then left alone in Pandora's dungeons, as Oz is taken to his execution ceremony.
Although Oz had been taken to his execution ceremony, Gilbert manages to arrive in-time, saving Oz and escaping into the catacombs of Pandora. In response, Oswald orders the executions of both Gilbert and Oz, leading to Noise switching places forcibly with Echo. Noise tracks Gilbert, Oz, Oscar (who's attempting to aid in Oz's escape) and Alice (who's soul Oz allowed to return to Jack's body), finding them just before they manage to escape through St. Luca's Gate. Noise poses as Echo, managing to do it so effectively that she approaches Oscar and impales him fatally, though failing to reach Oz, Gilbert and Alice in time.
Swan Song Arc
Edit
Not long after the death of Oscar Vessalius, Echo is propped up against a stone wall and crying within her's and Noise's subconscious. Noise sees Echo in this devastated state and approaches, asking what's wrong in a malevolent manner. Echo questions, through her tears, why Noise killed Oscar and in response, Noise answers by laughing and remarking on Oz's face when she impaled Oscar, calling it priceless and saying that she couldn't have ever dreamed that it would've been quite so entertaining. Echo is horrified by what Noise's saying, but Noise tells Echo that she won't need to worry, because she's going to kill Oz herself, meaning that Echo won't have any more reason to be sad. Outside their consciousness Noise retains her control over her's and Echo's body, laughing maniacally over her lust for blood, whilst Echo continues to cry as the secondary consciousness.
Echo is unable to stop Noise's rampage, being forced to standby while Noise kidnaps Ada Vessalius and uses her as leverage to force Xai to take herself, Lottie, Dug and Lily to Sablier using Gryphon; with added help from Duldee and Duldum. Once over Sablier however, a black city forms as a disruption spreads, throwing Gryphon off of his course  and sending Ada plummeting down below. Noise has Gryphon drop Lottie, Dug and Lily elsewhere in the black city while she begins hunting Ada down, and though she proves to be successful, Ada once again manages to escape Noise and hide out in a nearby store. Once again, Noise finds Ada, only this time The Way is ripped open and Chains begin flooding into Sablier, with The Cook confronting Noise and Ada.
Crying out in shock at the sight of The Cook, Noise only just manages to dive out of the way of its attack. While The Cook's attack did miss Noise, it shattered the counter that Ada was taking shelter behind, and so it changes targets upon noticing Ada. Fortunately, seeing that Ada was in danger, Echo forces Noise out of her way and takes control of her body, jumping on The Cook's back and plunging Noise's dagger into it. Echo begs Ada to hurry outside to safety; revealing her self to a now relieved Ada. Ada asks for confirmation that Echo truly is herself, though Echo notes how drastic the situation is and grabs Ada by the hand, dragging her out into the streets of Sablier only to have The Cook follow closely behind. Echo shoves Ada off in the direction away from The Cook and tells her to run while she takes care of The Cook. Ada attempts to object, but Echo tells Ada that she can't think of her as Echo, because Noise is going to break through and try to kill her once again. Echo apologizes quickly to Ada before running toward The Cook, trusting Ada to follow her orders.
While Echo leads The Cook away, Noise asks Echo what she thinks she's doing by running away like that. Echo asks if she's right to assume that it'd be hard to control The Cook using Duldee's powers, which is why it's best for them to retreat at a time like this. Noise admits that she doesn't care about The Cook, because she wants Ada no matter what. Echo outright denies Noise her satisfaction because she hates hurting people the way Noise does. Noise decides that she doesn't care about Echo's opinion, calling her a mere hindrance and telling her to shut up and go away, managing to push past Echo once again.
Unable to fight back against Noise, Echo is forced to sit by and watch as Noise tries to kill Ada, only to have Oz and Xai obstruct her path once again. With her defeat, Noise's heart begins breaking more and more and making her control over Duldee weaker, prompting bruises to appear along Noise's neck and face while she makes her way to the Baskervilles' Door to the Abyss. Here, Noise attacks Sharon, Lottie, Lily, Dug and Reim Lunettes, frustrated by her failure and her desire to reunite with Vincent. Noise figures out that Vincent went through the Door to the past and follows, only to be dragged from the timeline into the Tragedy of Sablier.
By now, Noise's heart is in disarray and she's left lying in her subconscious thinking of her broken memories while Echo looks on. Looking to Duldee, who hangs above Noise with her bonds slowly breaking away because of Noise's current state, Echo asks what Duldee plans on doing with Noise. Addressing Echo by her past name, Duldum, Duldee asks if she can't see it too, that Noise is spent and the reason for this is because her heart has been broken for a long time now. Ultimately, Duldee claims that their original Contractor, the Noise they'd tried so hard to protect, is no more. Thus, Duldee says that even though they weren't given Noise's body, it shouldn't be a problem for her and Echo to receive it. Frightened by Duldee's claims, Echo asks if she's right to assume that Duldee intends on taking over Noise's body completely. Duldee doesn't answer, instead taking control of Noise as if she were just another marionette and guiding her to the room where Oz, Gil, Alice, Vincent, Oswald, Cheshire and Jabberwock are fighting, intent on killing Vincent if she can't have him for herself.
Within Noise's subconscious, Duldee is ecstatic and laughs maliciously at her triumph over Noise. Seeing that Echo is horrified, Duldee attempts to justify her actions to Echo by explaining that Noise no longer has the will to act as her Contractor anymore. This meant that Noise couldn't control Duldee, who believed that Noise was merely keeping her bound before, anymore. Now, Duldee could simply tangle Noise in her strings and influence her mind by whispering to Noise, and Noise would do as directed helplessly and without question; making her more like a marionette than a human as she is now. Echo doesn't approve however, and insists that she won't allow Duldee to purposefully influence Noise's heart any longer. Angered by Echo's disobedience, Duldee demands that Echo explain herself, wondering what happened to Echo because by saying things like that she sounds almost like a human. Laughing, Duldee commends Echo because she's the oldest incarnation of Duldum, but rationalizes that Echo must've been broken somewhere along the line just like those before her. Submerging Echo in the waters of Noise's subconscious, casts Echo into a "disposal zone", admitting that Echo had worked so very hard during their time together and promising to become great friends with Echo's replacement.
During her descent, Echo thinks of how she was created as a reverberation of Noise in order to protect her Contractor's heart from falling apart. Though her purpose was unspoken, Echo knows that there's no denying what's true. Echo sits atop a pile of corpses from the other disposed incarnations of Duldum, thinking of how Duldee created her as another Duldum, but Echo was the nickname the Duldums within Noise were given, with Echo wondering who gave them the name in the first place; unsure of whether it was Vincent or Noise herself. Truthfully, Echo was created in order to preserve Noise's heart because Noise had no possible way to control the powers of the Abyss. After being put in a state of repose by Duldee, the Echoes sink into the depths of Noise's consciousness, where they continue to protect Noise. Even so, gradually Noise's heart has cracked and lead to the loss of her original persona lost; for letting such a thing come to pass, Echo can't help but feel guilty.
Looking to her predecessors, Echo thinks of how Duldum was originally meant to hijack the consciousness of one of Duldee's targets. Knowing well that if the Echoes were to remain acting for too long, they eventually gain their own sense of self and lose their power and durability, Echo ponders how many Echoes came before her. Echo has always understood what would become of her after she broke free, as it's been an absolute since the beginning, yet Echo still questions how and when she started to cry. Suddenly, Echo's thoughts are drawn to Oz, when Noise demanded that he reject Echo and he refused because of how he cared for her, a sense of sentimentality growing within Echo as she calls out for Oz.
With Echo gone, Duldee has Noise approach Vincent and shoot him in the leg, claiming that she wants him, though he keeps distancing himself from her; which is why Noise has to destroy him. Rolling onto his back, Vincent chuckles and commends Noise because she's exactly like him right until the very end, telling her that he'll willingly give himself to her; something which takes Noise by surprise. Duldee then orders Noise to shoot Vincent again and kill him once and for all, only to have Echo burst from the disposal zone and insist that she wouldn't allow something like that to happen. Outside of Noise's subconscious, Ada has also arrived and is attempted to help Vincent, resulting in Demios throwing her and Noise back and away from Vincent, disarming Noise. When Noise reaches out for her gun again, she stops herself with her other hand before she can grab it, because of Echo's intervention.
Within Noise's subconscious, Echo has taken an unconscious Noise into her arms in order to defend her from Duldee; much to Duldee's chagrin. Duldee demands that Echo explain herself and why she's interfering, and so Echo insists that she won't allow Duldee to do as she pleases with Noise any longer. Confused, Duldee asks what Echo means, believing that what she's doing is what Noise wants because no matter what Noise's desires are unobtainable, justifying that it should Noise should at least be allowed to destroy it with her own hands. However Echo disagrees, knowing well that Noise's desire isn't to destroy Vincent because that would completely destroy Noise's heart. Echo reveals that she's aware of Duldee's intent, because destroying Noise's heart is exactly what Duldee's looking to do so that she can take Noise's body as her own.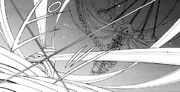 Furious, Duldee attacks Echo by binding Echo in her hair in an attempt to smother her. Before being completely enveloped though Echo manages to hear Oz's voice, something which she feels is so incredibly agonizing and sad, yet even so she can't help but feel happy because of it. Cutting herself free with her short swords, Echo continues her battle for Noise's heart, wondering to herself when it was that Oz's voice started being so special to her. As Echo fights through Duldee's continued attempts to bind her, she realizes that ever time Oz called her "Echo-chan" rather than "Echo", it made her feel as if she was the only one who existed there; something which prompts Echo to say outright that she's not Duldum or Echo, rather she's herself and she's going to continue to protect Noise by her own will and refuses to abide by Duldee's orders.
As Duldee becomes more and more aggressive with her attacks, Noise questions what Echo's doing because she's missing out on her opportunity to just disappear, telling Echo that if she was obedient and just collapsed into a heap, she'd be able to stay a little longer; though Echo states that she doesn't care, not even if that means she's going to disappear. Suddenly, Noise starts mumbling about how she wants to kill Vincent again, only for Echo to try and get through to Noise by telling her that she doesn't really feel that way. Unable to comprehend why Echo can understand such things when she herself can't even do so, Noise announces that she can't do this anymore as she starts to cry.
Hearing this, Echo tells Noise that she sounds just like Vincent because she loved and admired Vincent, even going so far as to imitate his words and actions. Echo says that she's the same, as were the past incarnations of Echo, as they could all see that Noise was slowly losing herself in favor of being sad. This in itself was sad, as the Echoes would always retrieve the pieces of Noise that she'd dropped every time it happened, gathering them so that she wouldn't forget who she was, something which Echo has done herself. Reiterating her reason for existing, Echo explains to Noise that she was born in order to protect her heart, being "the echo of the mirror that reflects Noise". After finally managing to stab Duldee in the forehead with her short sword, Echo drops and tells Noise that because of the pieces of her heart that she's taken into herself, Echo holds the exact appearance and state of who Noise used to be, begging Noise to try and remember her true feelings.
While Ada manages to get through to Vincent, Noise remembers her past clearly as she regains the lost fragments of her heart. Telling Echo that she remembers now who she is and now she wants to protect Vincent. Teetering, Noise falls over and reviews how she'd never intended on hurting Vincent, but even if he didn't have her there, Noise is thankful that Vincent finally has a place to cry now, with Ada. Running to Noise, Echo manages to catch Noise in her arms before she falls, revealing that Noise intends on allowing Echo to take the reigns as the dominant personality. Once settled in, Echo wakes to see Oz crying over top of her and asks why; explaining that it's because Oz called her that she was able to stand up and do the things she wanted of her own volition, which Echo thanks Oz for. Smiling, Oz says that he'll call for Echo as many time as she wanted, addressing her as "Echo-chan" once again, which makes Echo smile as she corrects Oz as she always does.
Ad blocker interference detected!
Wikia is a free-to-use site that makes money from advertising. We have a modified experience for viewers using ad blockers

Wikia is not accessible if you've made further modifications. Remove the custom ad blocker rule(s) and the page will load as expected.