Dodo
Talk

0
399pages on
this wiki
"
I'm still recovering, Ru-kun.
"

—Dodo informs Rufus on the severity of its wounds inflicted by Mad Hatter
Dodo is one of the Five Black Winged Chains, originally tasked to open a path of the Abyss and sacrifice Children of Ill Omen. Dodo was contracted to each Glen Baskerville alongside Raven, Owl, Gryphon and Jabberwock 100 years ago. The Black Winged Chains have since been separated amongst the Four Great Dukedoms alongside four of the five Doors to the Abyss. Dodo is currently contracted to the head of the Barma dukedom, Rufus Barma.
Dodo was contracted to the current 'Glen' of the Baskerville Dukedom 100 years ago, Revis. Levi's term as Glen was almost up, and so he began transferring his five Chains into his successor, Oswald. Dodo was the third of the five to be transferred, after Raven and Owl and before Gryphon and Jabberwock. After aproximately 20 years, Oswald had finally contracted with Jabberwock and took on the title of 'Glen'. Soon after the Chain transfers had been completed, Oswald had to banish his sister, as a Child of Ill Omen, to the Abyss in order to fully be recognized as Glen. Oswald was reluctant, but eventually used his Black Feathered Chains to summon the chains of conviction that dragged Lacie into the Abyss.
Long after Lacie's death, the Tragedy of Sablier broke out, and Oswald was killed. His five Chains were then divided amongst the Dukedoms. Dodo was given to the Barma Dukedom, and stayed dormant guarding the Door to the Abyss that it had been delievered to the Barmas with.
The Duke of the Barmas, Rufus Barma, contracted with Dodo about 70 years after the Tragedy when he was in his late 30s. Rufus Barma, alongside Duchess Sheryl Rainsworth had successfully contracted to their families' respective Black Winged Chains, Dodo, Owl and Gryphon, leaving only Duke Bernard Nightray and Duke Oscar Vessalius without a contract with one of the Black Winged Chains. However, alhough Oscar lacked the qualities to form a contract, his brother did not, and so Zai Vessalius made the contract with Gryphon, whereas none of the Nightrays could do so with Raven.
Rufus Barma Arc
Edit
Oz had requested that he, Alice, Gilbert Nightray and Xerxes Break meet with Rufus Barma to discuss the Tragedy of Sablier. When they arrive, they discover that Rufus is a michevious abstact looking man, with abilities that seemed to defy the laws of physics (i.e. walking on the cieling). When Rufus became angered because things had not apparently gone according to his plans, he flies out over the opera being held in his mansion. Oz and Alice chase after him, and Oz immediatly finds it odd that no one seemed to notice Duke Barma at all. Suddenly the people attending the opera started attacking Oz whilst Rufus spoke to Alice about her forgotten memories. Eventually Break catches up with Rufus, and slashes through the Duke with his sword. Break then uses the power of his Chain, Mad Hatter, to destroy all of the people attending the opera, revealing them all to be illusions created by the real Rufus Barma, the man who had posed as Sheryl Rainsworth's valet. Rufus then reveals that his illusions can't affext anything that acctually exists and that they're a trick that is only able to decieve children. Rufus then states that some of his illusions can cause an opponent to die of shock, but he further states that he views his Chain as being useless against humans, meaning that Dodo was the source of his illusions.
Re-Emergence of the Head Hunter Arc
Edit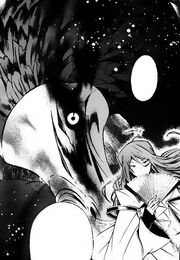 Oz, Gilbert, Alice and Sharon Rainsworth went to visit Rufus Barma in pursuit of information about the earthquake in Sablier. Explains about how Jack had severed his body in order to seal Glen Baskervilles soul, and how the earthquake was most likely from the breaking of one of the Seals. Rufus reveals that he'd located the second Seal already, and he begins talking about humans outliving their usefulness, comparing himself to Break to which Sharon took offense to as even though Break does use people, he would never forget the value of "humans" like Rufus has. This angers Rufus who decides to summon Dodo to teach Sharon how to act like a lady. Dodo begins attacking her with streams of darkness, injuring Sharon, though the attack is cut short when Gil steps in using the power of Raven blocks Dodo's power and so Dodo disappears once again.
Jack's Intention Arc
Edit
Dodo was used again by Rufus when he concentrated its power into his fan so that he could attack Sheryl Rainsworth and retrieve her Key to the Abyss so that the Baskervilles would accept him and his Dukedom. Dodo's power cut through Sheryl and crumbled the ground around her on impact.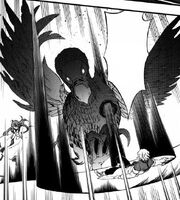 After Rufus had explained to Break about Arthur's journal revealing Jack's actual actions, Break went back and tried to find out where Oz was from Gilbert, though Gilbert was no help to Break as he had only just retrieved his memories and appeared to be having trouble absorbing everything. Break hears Rufus from behind him, telling Break not to lose interest in him yet, before Rufus summons Dodo and has it pin Break to the ground. Rufus explains that he needed proper compensation for the information he'd given Break, before seeing Sheryl's earrings, her Key to the Abyss, in Break's hand as he'd stolen it from Rufus earlier. Rufus claims that they were his and demands Break gives them back. Rufus kicked Break while Dodo kept him pinned, and Break let go of the earrings for Rufus to retrieve. Dodo continues to hold down Break while Rufus explains to the Baskervilles and what's left of Pandora, Arthur Barma's confession.
Soon, blinding light fills the chamber, being gernerated from outside where Jack Vessalius had just destroyed the chains that prevent the world from being swallowed by the Abyss as he did 100 years ago. Gil runs out of the chamber, and Break, noting the situation tells Rufus to call off Dodo. When Rufus doesn't comply, Break slams his palm into the ground and uses Mad Hatter's power to force Dodo to lift its foot so Break can escape. Dodo fades back into Rufus' body as he sits and mentions how he wasn't finished his explaination yet.
Description
Edit
Appearance
Edit
Dodo appears as a giant black dodo bird, its head alone is larger than his contractor, with a featherless face, a round body and stubby wings. Dodo has blazing, wild eyes and a grinning mouth that ends in a small beak, with nostils just above it, that gets lighter in colour as the snout progresses. Its legs are short and stubby, and end in large curved talons.
Powers and Abilities
Edit
Able to open paths to access the Abyss.
Able to pass judgement on those who've commited sins against the Abyss and summon the Chains of Condemnation for the sinner's conviction.
Dodo is able to use dark energy to attack its opponents
The ability to create illusions.
Able to mend the Chains which prevent the world's fall into the Abyss after someone has severed them.
Appearances
Edit
(*) - Denotes that the character did not appear physically, but as a part of another characters' memories.
Dodo is the only one of the five Black Winged Chains that cannot fly, as its wings are too small to carry its large body. However, because of the Chains that surround Raven's body, it is unknown whether or not Raven can fly, despite having two sets of wings.