Home
Talk

10
399pages on
this wiki
Welcome to the Wiki!
Reminders and Warnings
Please don't vandalize our pages or upload any unnecessary images.
Any kind of fanart on our pages is not allowed.
Any edit wars should be avoided by communicating.

Main Characters
Latest Manga Chapter
After the rain
Summary: Oscar is shown telling Oz his wish, that he only wants Oz to be happy, when Oz notices someone behind Oscar. Oz is confused to see Echo, when it is actually Zwei, as she tells Oz that it's no use as they are all meant to die here. Zwei says this as she stabs one of her short swords through Oscar's torso. Oz reaches out for his uncle, but the cliff he's standing on crumbles beneath his feet and he falls into a crevice screaming for his uncle.
Oz finds himself sitting up in bed, screaming, as he comes to realize that it was merely a nightmare. As Oz looks around, he sees Alice sleeping on his left side, and Gil just waking up on his right side. Oz steps out of bed and goes over to the window, looking out and questioning where he is. Oz can hear someone ask from outside his room what the state of Reveille is.
| | |
| --- | --- |
| Featured Human | Featured Chain |
| | |
| Elliot Nightray | Oz the B-Rabbit |
| Elliot Nightray was the last remaining legitimate Nightray Heir. Elliot was also the famed Nightray Assassin, The Head Hunter, though unintentionally. Elliot has beige-colored hair and blue eyes.He also has 2 blue earings (studs) in each ear. In his first appearance, he wore standard Latowidge uniform. | Oz the B-Rabbit is the main character of the series, Pandora Hearts, and was believed to be the contractor of a Chain known as Alice the B-Rabbit. However, in reality, Oz himself was B-Rabbit all along, and the existence known as Alice clings to Oz to maintain an existence. |
Affiliated Wikis
If you would like to become an affiliate of the Pandora Hearts Wiki, Contact Us.

Recent Blog Posts
Vote for the Next Featured Articles!
Image of the Month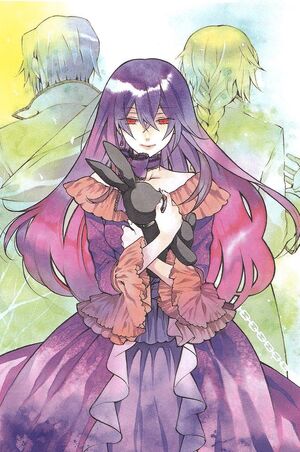 Lacie holding Oz, with Glen and Jack in the back.
Twitter
News!
PH Volume 20 is soon to be released!
New PH Light Novel is soon to be Released!
Poll
Did you buy PH volume 19?
Roman Numbers
Don't know how to read Roman Numbers? Read this and learn how to read the numbers!
Have a Question?
PH Websites